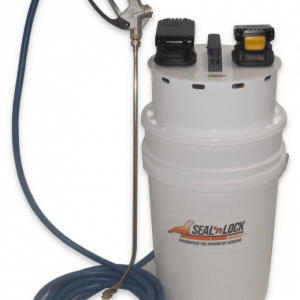 PAIL PUMP SYSTEM
$425.00
Seal 'n Lock bat­tery pow­ered Pail Pump Paver Coating Spray Sys­tem is a com­plete sealer spray­ing sys­tem designed for use with Seal 'n Lock Sys­tem paver pro­tec­tion prod­ucts. The pail pump paver coating spray system offers fast sealer appli­ca­tion, excel­lent porta­bil­ity, and fast easy cleanup. The Shur­flo pump is built tough and has a spray rate of 1.0 GPM to make quick work of nearly any seal­ing application and maximize the use of the products.
PAIL PUMP SYSTEM BENEFITS:
This spray sys­tem mounts on top of the pail and offers the con­ve­nience of a self-priming pump and has a handy on-off switch. The sys­tem oper­ates on two (2) 18v or 20v Dewalt-type bat­ter­ies (not included), and also includes two 20v adapters. A fully charged bat­tery sys­tem using stan­dard XRP bat­ter­ies can deliver peak per­for­mance for approx­i­mately 3,000 sq. ft. with the lithium-ion bat­ter­ies deliv­er­ing as much as 5,000 sq. ft. Run times will vary by bat­tery type and other factors.